Artificial Intelligence -
A guide to AI and implications for New Zealand
FEBRUARY 2022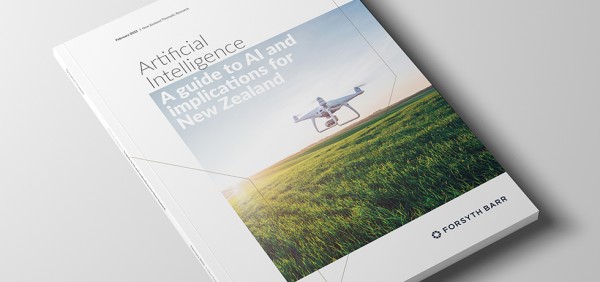 Artificial intelligence (AI) represents one of the largest opportunities for industry since the advent of electricity. AI enables us to create, improve, and externalise amplifiers for our minds and intellect, but it can also be dangerous and carries real risk. This has already had a profound effect on virtually every field of human endeavour — from medicine, to finance, to transportation. Going forward, AI will disrupt and augment current industrial processes and fundamentally transform how businesses operate. This report sheds light on what AI is and what it isn't, what competitive advantages it could deliver, its practical and ethical risks, and how to harness the power of AI responsibly. We take a closer look at the main listed sectors and how AI could impact these businesses over the short and medium term. The report also includes the inaugural Forsyth Barr Corporate AI survey. The survey provides on the ground insight about the gaps between the potential for applications of AI and the realities of current implementations in the New Zealand companies surveyed.
Click here to download a copy.
Spotlight on Climate Change
DECEMBER 2021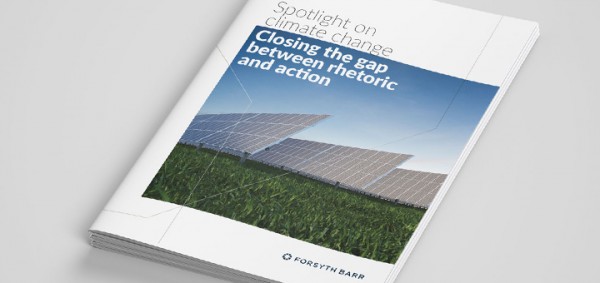 This comprehensive report from Forsyth Barr's Research team looks at some of the key developments of 2021 both globally and in New Zealand. It looks at how some New Zealand companies are positioning themselves for a low carbon future and reflects on the enormous gap between what has been achieved and what needs to be done to realise objectives on climate change.
Click here to download a copy.
These publications are general in nature and should not be regarded as personalised investment advice. For personalised financial advice contact your Forsyth Barr Investment Adviser.