Michael Jolly
Associate Director, Investment Banking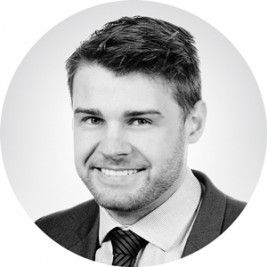 About Michael
Michael Jolly joined Forsyth Barr in 2016 as an intern. Following the completion of his university studies in 2017, he began full-time at Forsyth Barr as an Analyst.
Michael has been involved in a number of transactions including Mercury's NZ$797m acquisition of Tilt Renewables' New Zealand assets via a NZ$3.2bn consortium takeover of Tilt Renewables, Trustpower's NZ$441m sale of its electricity, gas, and telco retail business, Winton's NZ$350m IPO, Vital Healthcare Property Trust's NZ$157.5m equity raise, Pacific Equity Partners / IntelliHUB's NZ$270m acquisition of Metrix, Tilt Renewables' A$300m volume underwrite and subsequent NZ$274m Accelerated Entitlement Offer, and the A$168m sale of Trustpower's Australian hydro generation assets.
Michael completed his Master of Commerce (First Class Honours) in Finance from the University of Canterbury in 2017. Michael also holds a Bachelor of Commerce from the University of Canterbury.
None of Forsyth Barr Limited or its related companies are registered banks.
Michael is based out of the Auckland office
Forsyth Barr Ltd Auckland
Level 23, Shortland & Fort
88 Shortland Street
Auckland 1010
PO Box 97, Shortland Street, Auckland 1140
Phone: +64 9 368 0000