Forsyth Barr is proud to support Diversity Counselling New Zealand
Arriving in a new country is a stressful experience. There are new customs to learn, new rules to navigate, new languages to master and new relationships to form.
Back in 2013, two graduates from the Waikato Institute of Technology spotted a gap in the ethnic support network so they set up a charitable trust called Diversity Counselling New Zealand (DCNZ) to offer culturally responsive counselling in multiple languages.
In addition to professional counselling, DCNZ runs a variety of family support programmes throughout the year to support the wellbeing and mental health of migrants and former refugees, exploring things like self-care, self- esteem and confidence, communication skills and development of social networks.
Jenny Field, the chair of the DCNZ board and, up until recently, a senior teacher at Wintec, says its qualified counsellors and psychologists offer services in 18 different languages. But talking to someone in their first language is not just about accurately detailing what they're going through.
"It's also about comfort. They feel at home when someone's speaking their language and understands their culture. And it's proven to be something that people really value."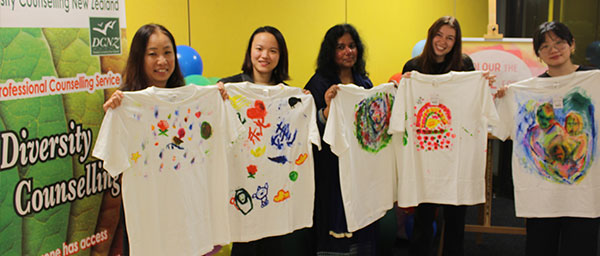 Staff at DCNZ, Kaoru Tsukigi, Jessie Zhu and Vani Mills and participants with painted t-shirts they designed at a marketing event held in association with the University of Waikato.
Valuable Funding
Funding has largely come from community grants and small fees, but as Covid-19 restrictions placed even more strain on people's mental health, it has started working directly with health providers and now receives a number of referrals.
This extra funding has meant they have been able to offer free counselling and Field is hopeful that it can continue this if it gets more central government support from the Ministry of Health or the Ministry of Ethnic Communities, which was set up in 2021.
While the organisation was founded and is based in Hamilton, it has been able to expand nationally by moving to a 'tele-psychology model', where counselling is conducted via video.
"We've got lots of great stories and some people have been brave enough to share their experiences at our events. It's very satisfying for me and it's a real privilege to work alongside people who have such a good understanding of the issues."
Forsyth Barr's Involvement
DCNZ's involvement with Forsyth Barr started in 2019. The Hamilton office had been involved in various fundraising activities for local and national organisations, but after reviewing its community involvement initiatives it decided that it should be more focused and tactile.
As a result, Investment Adviser Andrew Bateman looked for relevant organisations that could use some assistance and asked DCNZ to be its community partner. Bateman, and fellow Investment Advisers Andrea Booker and Graham Baker met bi-monthly with DCNZ's senior board members and management.
"Given our education and experience in business management, we're able to look at aspects of DCNZ's strategy and operations and provide advice. We can ask the hard questions that they may not have ever considered."
In addition to business advice, Forsyth Barr also offers practical assistance, like suggesting and hosting a showcase for DCNZ's stakeholders or donating old office furniture.
"We really value their support and experience," says Field. "They're a longstanding part of the business community and they're structurally very sound. They have been very good at listening to our challenges, most of which are around growth, and asking where our resources are coming from to meet this need."
Forsyth Barr is well-ensconced in the communities it operates in and Field says it has opened doors to other not-for-profit organisations, like Rotary. This introduction led directly to some additional funding.
It also introduced DCNZ to members of the Waikato University Management School, which led to the arrival of an intern who will help with their communications plan.
A Mutually Beneficial Partnership
"We have seen the positive impact of DCNZ's services when those who have benefited have spoken to us," says Bateman. "And it's been great to see the organisation move to being financially stable and sustainable as they grow their range of services and locations."
Bateman is confident the Forsyth Barr team has provided value to DCNZ, but like every good partnership, it goes both ways.
"It's been inspiring dealing with a group of community-minded people who are so very keyed into the needs of their clients and who exude humility, humanity and caring for their fellow men, women and children," he says.
To find out more, visit dcnz.net
Giving back to New Zealanders