Forsyth Barr is proud to support Live Ocean Foundation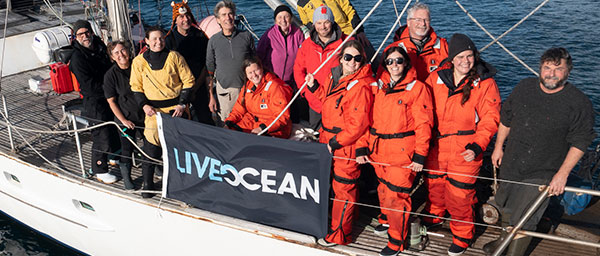 The first humans to land in New Zealand came here by waka and 70% of us live less than 10km from the sea. New Zealand's ocean is the fourth biggest in the world, stretching from the warm waters of the Kermadecs to the frigid waters of the Antipodes.
"The ocean is a huge part of our identity," says Sally Paterson, the CEO of Live Ocean Foundation. "And we're the lucky country in terms of our location and our access to it." But because it's so big, "most of us don't put our heads below the water", and because there's so little protection on offer, we have what she calls 'ocean blindness' – a lack of understanding about the true health of our marine environment.
Live Ocean Foundation's Origins
Live Ocean Foundation, a charity that was started by sailors Blair Tuke and Peter Burling after they both competed in the Volvo Ocean Race and recognised the need to do something to help protect our oceans, aims to snap people out of this malaise by drawing attention to the problems – and finding ways to fix them.
"We identify the talent, we form partnerships with them and we help fund them to do work that helps connect people to the issue … That's the way we work. We leave it to the experts. There are so many people working in this area and they understand the issues and the lack of protection and they are doing work with global implications. We just amplify and accelerate it."
Forsyth Barr has been on-board with that mission right from the start.
"We're not designed to make a profit. We're designed to help change the world," she says. "Forsyth Barr understood what needed to happen and said 'how can we help you?'"
That help ranges from giving practical financial advice based on its in-depth knowledge of start- ups and charities, to "opening doors".
"They're influencers, in the best sense of the word, and when we have a problem they often say 'have you thought about talking to this person?'"
A Memorable Launch
Launching an environmental for-purpose enterprise in the middle of a pandemic is something Paterson will never forget, she says. When people's priorities changed so rapidly, it was unclear whether it would be able to maintain its financial support. But Live Ocean Foundation was able to employ three staff in its first year and it brought in around $1.1 million, including a multi-year commitment from Forsyth Barr.
"That was a huge effort from a lot of people," she says.
Jonty Edgar, Forsyth Barr Co-Head of Markets said, "You can't not be impressed by Live Ocean Foundation. Their ambition is huge, but so is the capability and the commitment of the team they've brought together. We're thrilled to be able to support them."
As well as funding experts to raise awareness and find solutions, Live Ocean Foundation also hopes to use the profile of its founders and the power of sport to reduce our ocean blindness even further.
Sally explained, "This is Blair and Peter's journey… It's about their own ambition and stepping up to the challenge. They understood the difference they could make."
Reaching A Global Audience
Their involvement heading up the New Zealand SailGP Team supporting Live Ocean Foundation, for example, generates a huge global audience and, just like Turn the Tide on Plastic, a boat that competed in the Volvo Ocean Race, Paterson says it will be a great opportunity to show the audience that more needs to be done to protect our oceans.
Just 0.4% of the world's oceans are protected, she says, and the global goal is to increase that to 30% by 2030. In New Zealand, the Marine Reserves Act came into force in 1971, but she says we can't rely on an achievement from 50 years ago.
"We need to protect the oceans for the next generation, so we have to seek a balance between extraction and conservation."
She says the younger generation are "very dialled in to the climate conversation" and are angry that so little is being done and sailors like Tuke and Burling, marine biologists and climate scientists say "they've seen the changes in our oceans and they also feel very strongly about it". During the Covid lockdowns, when nature had a chance to take a breath, almost everyone got the feeling that "the planet has limits and that we're crossing many of them".
Highlighting Environmental Degradation
Shifting baseline syndrome, where new generations' thresholds for environmental degradation are continually lowered, means many of us don't realise that the sea used to be full of life, or that the bush was full of birds. To take action, people often need to feel the loss. That's why Live Ocean Foundation funded Songs of the Sea, a video series created by New Zealand Geographic, to show people what the Hauraki Gulf used to be like.
It is also working with New Zealand Geographic to fund a project called Seascape, which aims to map ecologically important areas of the seafloor using new technology. Other projects include funding research by the University of Auckland into the southern right whale and the Southern Seabirds Solutions Trust's work on finding ways to protect the threatened Antipodean Albatross, as well as supporting the University of Auckland with their critical research into kelp regeneration and blue carbon.
To have a healthy future, we need a healthy ocean. And the more you know about the ocean's current plight, the more depressing it can get. But we've fixed things before and Paterson believes we can fix this problem, too.
"We're relentless optimists. We have to be."

To donate, visit liveocean.com/donate
Giving back to New Zealanders