Proud to support Forsyth Barr Stadium
For Terry Davies, the CEO of Dunedin Venues and the man responsible for running Forsyth Barr Stadium, the past couple of years have been "pretty horrible".
"We had 380 events cancelled overnight, from big concerts and sporting events to meetings and conventions," he says. And the ongoing restrictions on gathering sizes since the pandemic began in 2020 caused havoc with events.
Vital Support From Partners
To add even more stress to the situation, there were four or five sponsorships up for renewal during that time, including the naming rights sponsorship with Forsyth Barr. But in what can be seen as a tribute to the past performance and future plans of the stadium, Davies says they all stayed, with Forsyth Barr re-signing for another 10 year term.
"The support of Forsyth Barr, our other corporate partners and our members has been absolutely critical to get through this period," he says.
Forsyth Barr has been there from the start, he says, and always backed the vision to create a unique public asset in Dunedin.
"It's always more than just a transactional relationship with Forsyth Barr," Davies says. "It's much more than just naming rights. It's a true partnership. I've worked at stadia all around Australia and New Zealand and this relationship is just so entrenched on both sides. We have a deep understanding of each other's values and each other's businesses."
Long-Term Relationship
Investment success is often measured over the long term. And Davies believes Forsyth Barr are in this for the long haul, too. In fact, he's pretty confident that it will end up being one of the most enduring stadium sponsorships the country has ever had.
"This deal is not in place because the CEO likes rugby and wants to sign up for a stadium sponsorship. It's in place because they bought into the vision at the start and they've bought into the vision for the next ten years."
He believes there are a few reasons the partnership works so well. Firstly, it offers great exposure for Forsyth Barr, with its events attracting audiences from all around the world.
It's also a good fit because the stadium is ranked so highly, both domestically and internationally. NZ Rugby ranks it higher than any other stadium in the country and the players rank the surface as the best in the world. In a recent video, Ed Sheeran, who performed two huge concerts there in 2018, said Dunedin was his favourite Australasian destination.
"Forsyth Barr has a reputation for quality so it wants to associate with a quality asset," he says.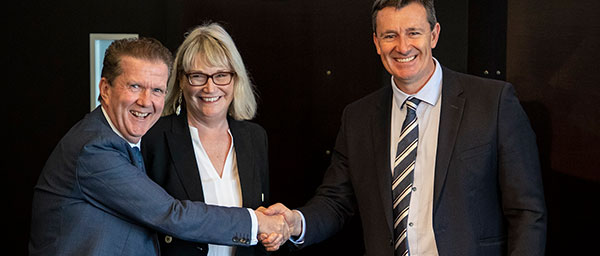 Terry Davies (CEO Dunedin Venues) with Raewyn Lovett (Chairwoman Dunedin Venues Management Ltd) and Neil Paviour-Smith (Forsyth Barr Managing Director) at the re-signing of the Forsyth Barr Naming Rights Sponsorship Agreement.


Dunedin Origins
Forsyth Barr was also founded in Dunedin and the stadium has delivered huge benefits to the city. Many of those who were initially against it due to the cost have had to agree that it is a great asset and analysis shows the stadium has created over $300 million of economic impact since it opened ten years ago.
But what matters cannot always be measured and Davies believes the intangible benefits of Forsyth Barr Stadium – like increasing pride and creating positive vibes – are just as valuable.
And that looks set to continue: the stadium has already been a catalyst for further development at the waterfront and there are plans to expand the footprint of the stadium by adding a hotel, more car parking and a rooftop bar.
AJ Hackett has also been contracted to provide adventure products and it hopes to have more involvement with the sporting precinct around the University Oval, potentially even hosting a major music festival on the fields.
Davies says Forsyth Barr Stadium is in the entertainment game, so whether it's e-sports or traditional sports, small conferences or major concerts (it has an exclusive South Island deal with Live Nation), success in the future will be all about providing a range of options for the community and ensuring the stadium is in action as much as possible.
Looking Forward
While the last few years have been very challenging, Davies is looking forward to the next few years and he's confident Forsyth Barr Stadium will continue to outperform other venues.
"We deliver great events. We make money for promoters and NZ Rugby. And we bring economic and social benefits to the city."
Forsyth Barr Board Chair David Kirk says the extended partnership is a vote of confidence in the Dunedin region.
"Many people will know that the very first Forsyth Barr office opened here in 1936. We're committed supporters of the region and staunch advocates for what Dunedin and Otago deliver to New Zealand," Mr Kirk said.
For more information visit forsythbarr.co.nz/stadium
Giving back to New Zealanders